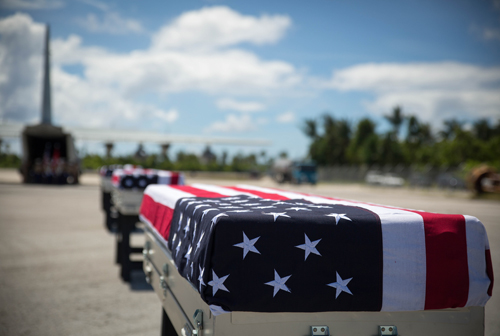 Caskets carrying the remains of more than 30 Marines rest on the tarmac, July 25, 2015, in Tarawa, Kiribati, before their return home to the United States where they will be identified and laid to rest in their final resting place. (USMC photo by Cpl. Matthew Bragg)
Marine Remains Returned from Tarawa
Added July 30, 2015

This past week, the United States military and History Flight, a Marathon, Florida-based non-profit organization committed to keeping World War II aviation history alive, brought the remains of more than 35 Marines home to America from the island of Tarawa, Kiribati more than seven decades after American Marines and sailors fought to gain control of the island from Japanese forces during World War Two.
Initial studies conducted by History Flight indicates that the remains of First Lieutenant Alexander J. Bonnyman Jr., a Marine who was posthumously awarded the Medal of Honor, are among those recovered.
Almost 1,000 Marines and 30 Sailors died during the three-day battle. Less than 20 of the almost 3,500 Japanese troops on the island survived, as did less than 130 of the approximately 1,200 Korean slave-laborers who were on the island. More than 500 American servicemen are still unaccounted for from the battle.
Click here to read the original story